10 May 2011: Manamah, Bahrain.
AMCC VP visit to Bahrain Chamber of Commerce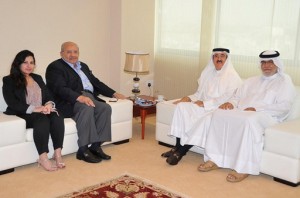 On Tuesday 10 May 2011, Mr. Bahaa Mekkawi, AMCC Vice President, met with the Chamber of Commerce and Industry of Bahrain and came in newspaper Alwasat News on Tuesday 10 May 2011, Issue No. 3167.
Some of the key discussion points of Mr. Mekkawi's meeting with CCIB were the topics of "Food Security, Indoor Agricultures, Fish Raisings, etc."
 Other topics of the meeting according to Alwasat News newspaper were:
The ways to further develop relationships and opportunities and areas of trade cooperation between the private sector in the Kingdom of Bahrain and Malaysia,
The role of chambers of commerce in both countries, particularly Arab Chamber of Commerce of Malaysia to increase the volume of trade exchange between the two countries
The meeting was between Members of the Board of the Chamber President of the Bahraini side in Bahrain Malaysian Business Council, Abdul Hameed Kooheji and Vice-President of the Chamber of Arab Malaysian Chamber Baha Mekkawi
The chamber informed to support and strengthens the relations of trade and economic cooperation with Malaysia, especially in the areas of health care and higher education, tourism and food security.
He also noted the role of the Arab Malaysian Chamber opens new horizons for relations between the two countries serve the common interests of the two friendly countries.
He pointed to the importance of mutual visits between trade delegations in both countries and the establishment of joint economic activities.
It was also suggested by the Chamber to organize promotional events and marketing to introduce the future investment opportunities and economic information to open direct channels of communication between entrepreneurs of both countries .
The Vice President Mr. Bahaa Mekkawi, stressed the importance of such visits in developing relations trade and economic sectors of business and trade in both countries.
It also addressed the most important developments of the climate and the investment environment in Malaysia.
He pointed out that there are many sectors and areas that could form the basis for the development of bilateral trade such as:
Timber, rubber, oils, fish, food, farming, Fisheries, and agriculture in agricultural reserves, Without soil Water treatment.